close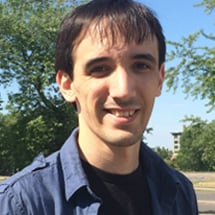 Alexander
Testimonials
Alex really cared about me doing well. He was responsible with our meetings, delivered what he promised, and followed up with his notes. He also was very encouraging and supportive. Alex diligently reviewed my test scores and provided feedback from his analysis. The whole experience was great. The admin staff was great and helpful. They are very professional and know how to simplify concepts for quick success.

"Alex was great at explaining the basics, which helped me understand more complicated stuff very easily. Also, it was super helpful how he wrote everything on the whiteboard and sent me notes, which were clear and I could review and study from them later. Finally, his knowledge of how to use my calculator (necessary for the course) was valuable. I felt like he knew exactly what I was expected to know for my test and he also had a great understanding of the topics. The lessons were very productive, we both knew there was little time and a lot to do." (Michalina, IB Mathematics HL (Applications and Interpretation) Student)

"Alex was extremely approachable and did a great job of meeting me where I was at in terms of material and understanding. He was able to pinpoint very accurately where I could improve and gave very helpful strategies for approaching those areas. I found his explanations of answers to be much more helpful than those in any book, and his experience and library of info sheets were very valuable. I'm so pleased with my experience. Everyone throughout the process was helpful, respectful, and encouraging. The tutoring was an invaluable asset in my retake studying. I always felt valued and respected. Score went from 610 to 710." (Anonymous, GMAT)

"Alex explained everything in a very simple and clear way. I especially liked how systematic our series of sessions were. Alex would email me all the details we went over during our session so I could compile them and review thereafter. This would also include all homework and resource recos he had for me based on the topics I wanted to improve on. In addition, Alex was very accommodating. I loved how I could email him some questions over the week and he would reply with the solution promptly. This really helped me move forward with my review at the pace I preferred. He was flexible in the sense that he was willing to adjust our set lessons in order to help me in the areas I felt I needed more help with. I could see a sizable improvement in my score at given intervals. Considering that I have not studied for a test with such a broad coverage in the last 20 years, I could say that the 3 months of studying with Alex was definitely a game changer for me." (Jacqueline, Executive Assessment)

"Alex was phenomenal. I am not terribly gifted in math, and Alex is a math guru, which is exactly what I needed to prepare for the GMAT. Very well prepared for each session. Explained key math concepts clearly. Had a very positive and encouraging attitude throughout our prep together." (Andrew, GMAT)

"Alex did a great job at explaining concepts and helping mentally prepare for the exam. Alex was always prepared with an plan for the sessions and would follow up with a recap and assign homework. All of the sessions covered topics that I needed work on. I completed all of the assigned homework and did extra problem prep as well. We used the full hour session to work problems and go over different strategies. It was extremely helpful to have someone explain the problems I missed and teach me how to tackle the same type of problem in the future. Alex was very responsive and receptive. Score went from 144 Quant 145 Verbal to 157 Quant 153 Verbal." (Emma, GRE)

"Alex is excellent at explaining things in a clear way. He was always prepared, thorough, helpful, and very approachable."
Want to study with Alexander?
Get started with Alexander!